Drupal Watchdog Volume 1 Issue 1 is on its way to Chicago to greet all attendees of the Chicago DrupalCon. Those that subscribed should receive the first issue within the next two weeks, possibly longer for international subscribers. This issue was made possible by 23 authors, 7 editors, 2 designers, and a 3-person layout team. Its 80 pages were printed on FSC Certified paper stock with soy inks.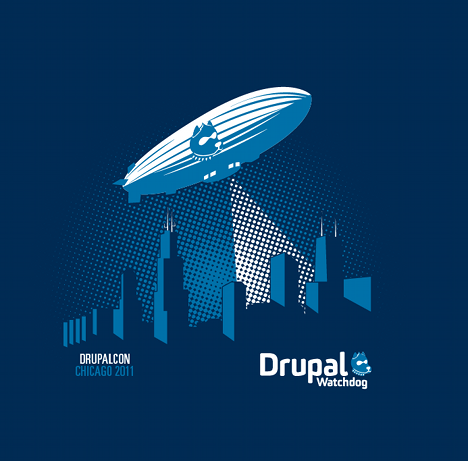 I'll be in Chicago attending the DrupalCon, and eager to get feedback from other attendees. Questions I'm looking to get answered include: What did you most enjoy about Drupal Watchdog Issue 1? What do we most need to improve? Is there enough interest to publish quarterly in 2012? What digital formats are people most interested in? And, what topics would you be most interested in seeing covered in Issue #2?
The printer sent me a snapshot of some finished copies of Drupal Watchdog issue #1. The photo was taken from a phone and is not high quality, but it gives you an early sneak peak as to what you can expect: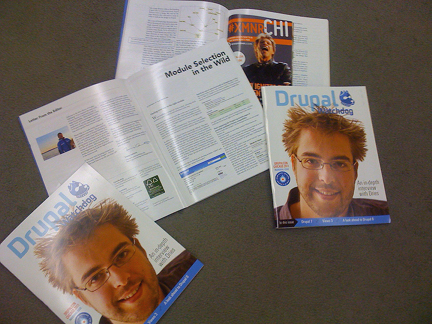 The copies of Drupal Watchdog that people find in their "tote bag" in Chicago contain an exclusive bonus: Examiner.com put together a full-color 28-page insert titled "#XMNR:CHI The Insider Guide To What To Do And Where To Do It". The insert suggests where to eat, where to drink, and what to see while you're in Chicago. It even includes a map of the area around the Drupal Towers and a list of food within easy walking distance.
Drupal Watchdog is a very content-rich magazine. Our first issue is 80 pages long and includes 7 feature-length articles, 13 standard-length articles, and 6 columns. Read on for the complete table of contents, it's quite likely you'll recognize a great number of our contributors! As a print magazine, Drupal Watchdog strives to bring you relevant information that remains useful to you for a long time to come.
Table of Contents
Features:
What's New In Views 3
Highlighting the major new features in Views 3. By Lynette Miles.
Introduction to the Field UI
How to add new fields to nodes, comments and users. Morbus Iff and Kevin Hemenway.
An In-Depth Interview With Dries
Learn from the creator of Drupal how it evolved over the past decade from a simple message board, and where he sees it going over the next 10 years. By Jeremy Andrews.
The Future of Drupal: Drupal 8 And Beyond
Challenges and opportunities for the next version of Drupal. By Karoly Negyesi.
PSD To Drupal 7 Theme
Learn to create a theme for Drupal 7 starting from a Photoshop image. By Emma Jane Hogbin.
Performance And Scalability In Drupal 7
A comprehensive overview of the performance and scalability improvements in Drupal 7. By Nathaniel Catchpole.
Design Patterns
Understanding design patterns for solving problems that come up over and over again. By Larry Garfield.
Articles & Columns:
Module Selection In The Wild
Tips for choosing the right contrib modules. Article by Jeffrey A. "jam" McGuire.
Seven Modules You'll Be Using Next
A look at seven lesser known modules for Drupal 7. Article by Michael Anello.
What Is This Views thing, And Why do I Need It?
An introduction to Drupal's most popular contrib module. Article by Lynette Miles.
Really Important Views-related Modules
A brief look at some useful enhancements to Views. Article by Lynette Miles.
Attachments: The No-Muss No-Fuss Views Upgrade
Use multiple-display views to add functionality to your website. Article by J. Ayen Green.
Building A Drupal Commerce Product Display
A step-by-step guide to displaying products in Drupal 7. Article by Ryan Szrama.
Drupal 7 Books: Valuable Resources For Site Builders
A survey of all the books currently available about Drupal 7. Article by Michael J. Ross.
The Power of a Latin Community
Coverage of Drupal in Latin America. Article by Paulino Michelazzo.
Improve Your Site's Effectiveness
Optimizing your website with Google Website Optimizer. Article by Nick Schoonens.
How To Implement A New Feature In Views 3
Step-by-step guide to writing a custom Views pager. Column by Earl Miles.
Drupal: Secure by Default, Inconsistent by Nature
A look at the security choices in Drupal's APIs. Column by Greg James Knaddison.
Contributor's Corner: Drupal's Help System
Drupal 7's new help system standards. Column by Ariane Khachatourians.
Making Drupal A Go-to Platform For Building Mobile Applications
The state of mobile support in Drupal 7. Column by Dries Buytaert.
The Many Layers of Caching Drupal
How caching can improve the performance of your website. Article by Eric Mandel.
The Infrastructure Behind a Redesigned Drupal.org
Keeping drupal.org and contributors working efficiently. Article by Rudy Grigar.
Release Quality "On The Truck"
How Examiner.com achieves 99.97% uptime with Drupal 7. Article by Doug Green.
Drupal in Context
Getting paid to work with Drupal. Column by Tom Geller.
The Farmisht Freelancer
Questions not to forget when taking on contract work. Column by J. Ayen Green.
The Drupal Association: Stewards of the Drop
How the Drupal Association benefits the Drupal community. Article by George DeMet.